Hungarian military industry developed SPSS-1000 (Saker Portable Surveillance System), a short-range, portable, and versatile scanning system, which is suitable for moving targets close to the surface (persons, living, moving objects). It is capable of determining their distance, speed and size.
The SPSS is ideal for monitoring borders and free space as well as for monitoring protected military and civilian properties. Its low weight and mechanical design allows easy and rapid installation and transport.
The SAKER radar is compliant to MIL-STD 461 standard.
The flexibility of technology provides the possibility to change the main characteristics according to the customers' requirements.
The radar withstands the extreme weather conditions (snow, rain, fog), and it provides reliable and accurate measurement. In automatic remote operation mode (1-10 remote radar) one person is required for operating, which results a cost-effective operation.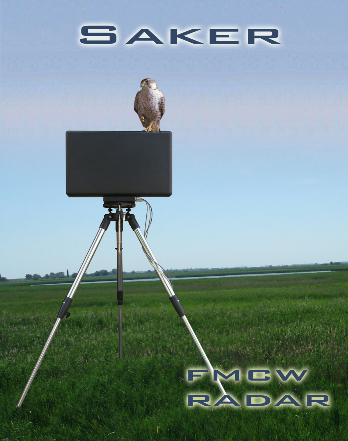 SAKER radar system
Portable terrestrial surveillance equipment
General description
SPSS – 1000 (Saker Portable Surveillance System) is a short range, portable versatile FMCW based locator system which is appropriate to locate any target moving on the ground or near to ground in the air, detecting the distance, direction, and velocity of the object. It is capable of observing borders, civil or military areas and buildings.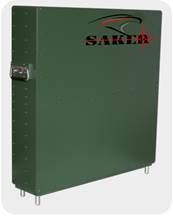 Architecture and Technology
The surveillance system is based on FMCW theory hence it is applicable to detect targets from large distance with relatively small output power (1W) and consumption. The light weight and mechanic construction facilitate the transportation and decrease the setup time of the unit. It could be used within specific environment including rain, fog, haze, wind or snow even between extreme values of temperature, -25°C to +45°C and 80% humidity, owing to its structure. All metallic parts have anti-corrosive and antirust protection, made of aluminum and steel without reflecting light. The MTBF of the equipment is at least 2000 hours with the option of 24 hours continuous operation. It has refined and highly optimal hardware configuration with the option of upgrades and enhancement of software.
Digital Signal Processing (DSP) is facilitated by high-speed and capacity Spartan6 LXT FPGA controlled ADC using FFT, manufactured solid state industrial electrical components. It can observe 10 different targets at the same time, detecting the position by using built-in GPS receiver and compass. The location of the target is enhanced by the process of adjunctive Doppler frequencies from its movement-characteristic.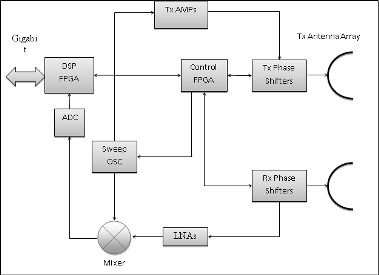 The development of Saker radar system is solved by deploying our highly qualified engineers, using the advancements of the latest technology with low power consumption, small and high-speed electronic components, resulting in fast and adaptive manufacturing.
One of the most important technology is binding the smallest electronic components using bonding station to improve manufacturing by short and high performance connections between MMIC's and specific high frequency parts. To achieve the best results as small as 17 micrometer golden wire is applicable with wedge or ball endings of ultrasonic binding method.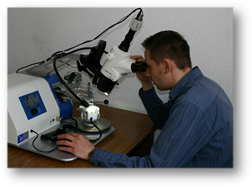 The modules of the system
Microwave transmitter and receiver 10 GHz

Phase controlled network of antenna (antenna array)

FPGA controlled ADC, Phase shifter and sweeper

High speed FFT, Signal processing FPGA

Remote monitoring system

Power supply system, ETH POE option

Min

Options

Max

Working frequency

10 GHz

Maximum 50 MHz continuous sweep

10.45 GHz

Output Power

1 W

1 W

1 W

Range of operation

3 km

3/6/12/24 km

24 km

Radial velocity detection

1 km/h

Continuous

≤

150 km/h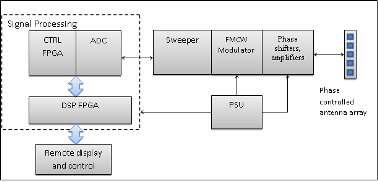 The basic structure
The system is using 50 MHz sweeper configurable by the operator between 10 and 10.45 GHz. It is possible to distinguish two different objects within the same azimuth assuming at least 50 m distance or 6 o difference between them. The range of operation could be refined allowing better scan to the given area. The shortest distance to locate the objects is 40 m from the radar.

Antenna
Angle (vertical)

< 3o

Azimuth accuracy (horizontal)

< 0.5 o

Range accuracy

<

150 meter

Gain

> 28 dB

Polarization

horizontal

dimensions (antenna + equipment)

700x680x250 mm

Weight

<

62 kg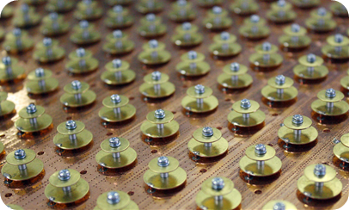 With the help of the phase controlled antenna array the resulting characteristic of phase is useful to control the scanning without turning the whole antenna. The shape of the total phase front is based on the radiation of the different phase-driven elemental antennas to emerging the whole characteristic.

Antenna type

Scanning angle

(horizontal)

Mechanical

tuning

Phase controlled

±30 o

±10 o

Motor (Optional)

250 o

±10 o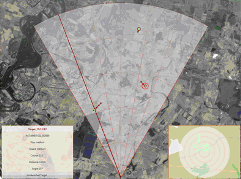 Antenna type

Turning speed

(horizontal)

Antenna accuracy

Phase controlled

Setup immediately

< 0,1 o

Phase controlled

Sweep = 1 msec

< 0,1 o

Motor (Optional)

0 - 20 o / sec

< 0,1 o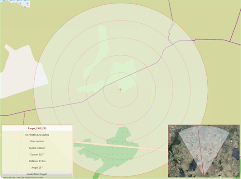 Power Supply
DC supply 9 – 36 V
Power consumption < 100 W
AC supply (optional) 180–250 V AC, 50–60 Hz
The supply could be sourced from the transporting vehicle by power generator or using any commercial power source from POE at least cat5 UTP cable.
Displaying and software system
The required parameters of the observed area are transmitted via Ethernet connection, allowing remote control and monitoring from the transporting vehicle or from a distant location. Any object or discrete area could be removed manually by the operator. The observed range could also set from 50m to 24 km. Several objects could be located and displayed at the same time to a maximum of 20, marked with different colors and illustration.

Moving objects separation (resolution)
Range

Resolution

3 km

<

20 m

6 km

<

40 m

12 km

<

80 m

24 km

<

160 m
Moving objects detecting distance
Target size

Range

RCS ~

1 m2

< 8 -

12 km

RCS ~

5 m2

< 12 -

16 km

RCS >

10 m2

< 15 -

24 km
Multi-sensor network

With at least 2 to a sum of 10 locators could be merged into a single management surface to facilitate the surveillance of a complete borderland or a large area. This merged locator system is controlled from the same monitoring software with the same functions as with only one radar