The HM Arzenál Co. has successfully co-operated with the French-English Matra BAe Dynamics (MBD) - the winner of the "Short-range air defense missile" tender, furthermore its Italian-Swiss subcontractor, the Oerlikon Contraves (OC). The tender's results has been announced at the beginning of year 1997. The winner had to meet its obligation to supply three Mistral air defense missile batteries till the end of year 1999. The Hungarian party specified such requirements concerning the structure and equipment of the missile batteries, for which the MBD did not dispose of outlined solutions.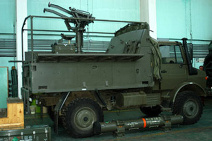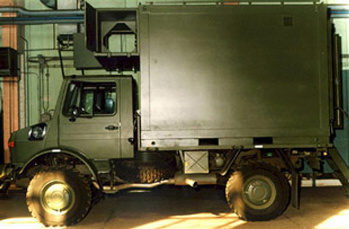 The French party entered into a contract with the HM Arzenál Co. to satisfy these requirements and to perform the necessary developments and production. The HM Arzenál Co. developed and manufactured in a needed amount the Atlas Interface Platform in the frame of this contract which resolved the mounting of the MISTRAL air defense missile launch pads onto the transporting vehicles and the storing and transportation of equipment directly needed for the combat operation. The HM Arzenál Co. furthermore developed and manufactured the company- and battery-level logistic vehicles for the transportation and operation of different spare parts and auxiliary materials, tools, test and communication devices.

Similarly, in the course of this program, the HM Arzenál Co. - as a subcontractor of the OC - manufactured the radar housings of the fire control radars of air defense missile batteries (Mistral Command Post) and the digital signal processing electronics with SMD technology. As a result of the successful co-operation the HM Arzenál Co. was the first company in Hungary, which got "NATO supplier" qualification.


The MISTRAL air defense missile system has been made suitable for the co-operation with the K-1P fire control system in 2004 . The computerized workplace of the Mistral Command Post got a TCO terminal, which is the same unit that is built in the fire control radar (SZURN) of the SA-6 system.